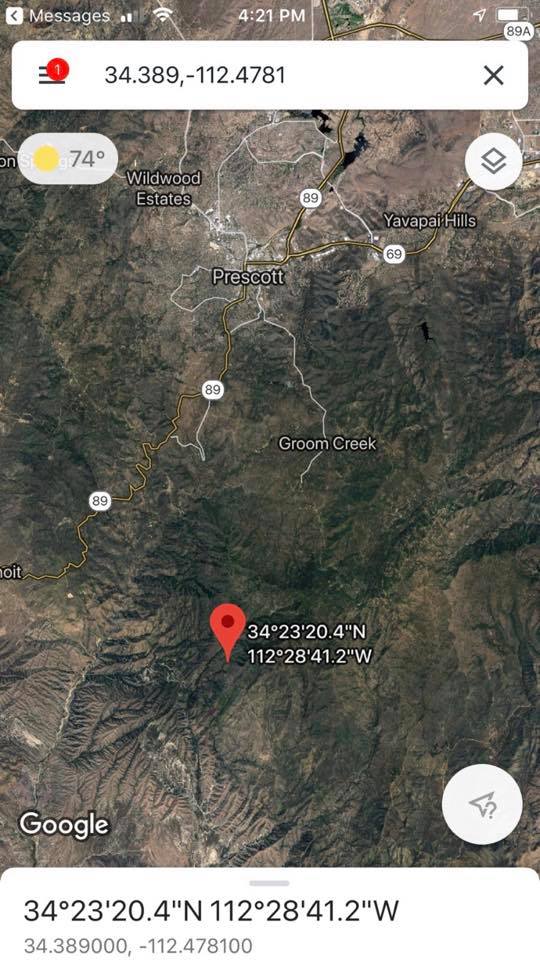 About 5:00 on the Walker Private FaceBook Group:
I was personally evacuated from Mountain Pine Acres by deputies 30 minutes ago. They have closed the roads going in and many sheriffs and Forest Service and Fire at Walker Rd and Senator junction. Deputies are evacuating door to door. I know YCSO code red only went out as "ready" a few minutes ago but if you are up there or have friends up there they need to leave right now. The sheriff said the fire is growing rapidly. The deputies are going door to door in Mountain Pine Acres and evacuating residents. (I do not know what is being done in Potato Patch.) I saw Groom Creek engines on Senator and too many county and forestry service officials to count. Be safe and contact your friends because the emergency alerts have not caught up to what is happening on the ground.
Yavapai County Sheriff's Office: General fire location and code red evacuation information for the Lookout Mountain area. Forest service expected have updates soon on the fire.

Helicopter dropping water currently – Tanker on its way —
At 4:30, we got this message:
This is a READY Message from the Sheriff's Office. There is a wildfire south of the Walker, Groom Creek, Potato Patch areas. Stay aware of the latest news and information from local media, your local fire department and public safety officials. Thank you
Walker Fire:The fire in question is being called the Johnson Fire. An estimate of 40 acres was recently given. We do not know if the previous 5-7 was correct, it may have been, but that 5-7 was first number given by the IC and has now been updated. There are helicopter operations underway currently and we believe larger aircraft are coming from Phoenix. Exact location is still not clear to us.
I took a photo from the top of the hill driving down, west, into Potato Patch. The fire is far on the other side of that mountain to the west. – Conrad Walton
US Forest Service: The Johnson Fire, Southwest of Lookout Mountain (T12N, R2W, S16) approximately 8 miles South of Prescott, is currently estimated at 40 acres, burning in brush, PJ and timber. There are 4-Engines and 2-Helicopters, responding or on-scene. Additional fire resources have been ordered. We will update you as information is available.
Walker Fire: We are aware of a fire south of here but have very limited information at this time. An initial estimate was 5-7 acres but there is concern with how quickly it could spread. Air resources are in route and one helicopter is already in the area. We are not clear on the location at this time and do not want to give out incorrect information. Keep in mind rain is forecast for tomorrow.Please use this post for all updates, facts, news, etc. that way all information stays on one easy to access area. Thanks!
Yarnell Fire District: At about 50 acres, the Johnson Fire is burning near Johnson Flats, approximately 8 to 10 miles East of Wilhoit. Crews are on it!