Walker Fire Department Facebook Page
https://www.facebook.com/walkerfiredept/
Walker Merchandise
Support your volunteer fire fighters by purchasing Walker Merchandise. We offer apparel (t-shirts, sweatshirts, all sizes); hats, as well as many "Walker" items such as tumblers, pens, keylights, license plates, etc.
Send your inquires to: merchandise@walkerfire.org
Do you want to be able to use the trash dumpsters at the fire station?
You need to go to this web site and contact the people who run it.
http://walkertrashcollectionservice.com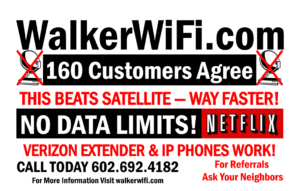 I personally use and recommend Walker WiFi. Nick Wold is the owner and provides great service at a reasonable cost.
His web site is located at http://walkerwifi.com/. Tell him Conrad sent you.
Snow Removal
Don Lay has offered to plow snow in Walker. He lives on Pine Mountain near
the mailboxes. His number is (928) 899-4367
Mark Miller of Miller's Dirt Works In Prescott Valley will also plow snow
in the Walker area. His telephone number is (928) 300-0812
Handy Man / Clean Up
Sam Dietz has 35 years experience as an electrician. He does residential and commercial work, general handy man work, and debris clean up. Reasonable rates.
Call him at 928.713.5920.
Wicket's Cabin Caretakers does clean up and maintenance, plus a lot of other related tasks.
Contact them at 928.999.2773 or wicketscabincaretakers@hotmail.com