(Note: This web site does not represent the WCAA. This information is only presented as a courtesy.)
An Arizona Non-Profit Corporation
Their web site is located at: http://www.walkercaa.org
The Walker Community Action Alliance (WCAA) is a charitable community organization that is run by the members. Every meeting is a membership meeting. The function of the WCAA is to raise funds and provide services other than those of a fire department for the benefit of the Walker community. The WCAA has the opportunity to do things for the community that the fire department cannot do or should not do. The WCAA is more interested in preventing fires than fighting fires so it developed the Community Firewise Plan.
The character of affairs of the corporation will be:
To raise funds for the rural forested community of Walker, located in Yavapai County Arizona.
To focus on creating awareness and providing education and services to citizens, including but not limited to: fire protection and emergency medical services, disaster and environmental related issues, disaster preparedness, crime prevention, establish a recognized "Firewise Communities/USA Recognition Area", emergency evacuation, search and rescue, public health and recreation.
To educate the community on the history of the Walker area and to recognize and protect the historical sites located within the community and surrounding area.
Funds raised will be the result of voluntary donations, fund raising events, public/private grants.
WCAA News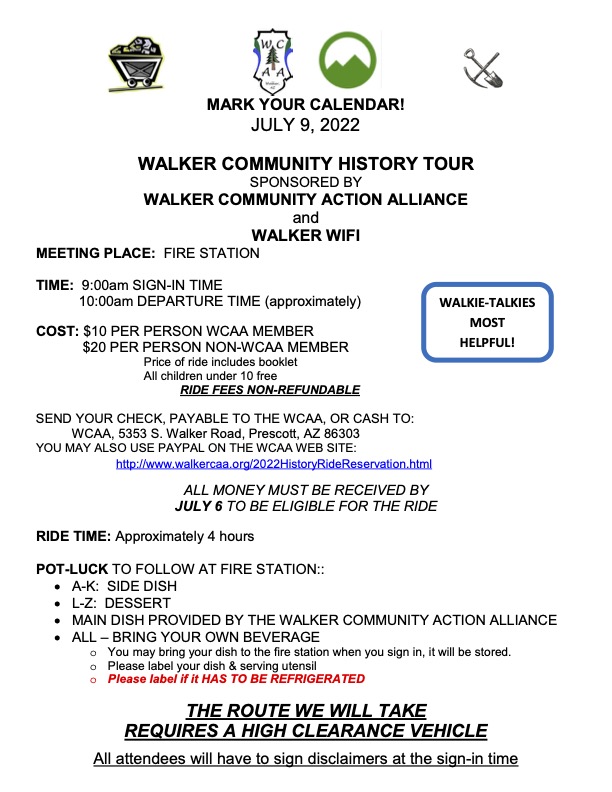 MARK YOUR CALENDAR!
JULY 9, 2022
WALKER COMMUNITY HISTORY TOUR
SPONSORED BY
WALKER COMMUNITY ACTION ALLIANCE
and
WALKER WIFI
MEETING PLACE: FIRE STATION
TIME: 9:00am SIGN-IN TIME
10:00am DEPARTURE TIME (approximately)
WALKIE-TALKIES
MOST
COST: $10 PER PERSON WCAA MEMBER
$20 PER PERSON NON-WCAA MEMBER
HELPFUL!
Price of ride includes booklet
All children under 10 free
RIDE FEES NON-REFUNDABLE
SEND YOUR […]
WCAA
NFPA®
FIREWISE USA"
Residents reducing wildfire risks
MARK YOUR CALENDAR!
JUNE 25, 2022
HISTORIC WALKER FILM
FEATURING
ART DAHLIN AND HIS EARLY WALKER MEMORIES
PLUS
FIREWISE DAY
SPONSORED BY
WALKER COMMUNITY ACTION ALLIANCE
WALKER FIREWISE
WALKER WIF
MEETING PLACE: FIRE STATION
TIME: 2 – 5 PM
COME AND MEET SOME NEW NEIGHBORS
COME AND SEE YOUR OLD NEIGHBORS (IT'S BEEN AWHILE)
SHARE YOUR MEMORIES OF EARLY WALKER
RECONNECT WITH […]
The WCAA calendar being sold to support FireWise is now available.
It's $15, plus shipping. Contact walkercaa@gmail.com or go to walkercaa.org.
You can clear the growth on your property and bring it to the fire station parking lot, where it will be chipped, or ground up, and hauled off in roll offs.
March 13 – May 20
Walker Community Action Alliance (WCAA) is happy to announce the 2021 Walker Community […]
(Because we're so over the current year)
Includes:
13 Month Calendar
12 Recipes
13 Area Pictures
Bonus Cooking Tips
Projected Event Dates
Celebrating 10 years as a Firewise community.
Contact Mona Feige to set up pick-up or delivery. rmfeige@msn.com or 602-527-8683
Order by mail through www.walkercaa.org (postage fee required)
Payment […]
We get email:
Community Members:

We hope this email finds you and your family safe and healthy. No doubt, we yearn some normalcy in our lives and look forward to summer in the mountains.

One projection is that half of us will come out of quarantine amazing cooks. It's a […]
From WCAA:
"BIZABRE BAZAAR" TIME!
(If you've ever attended you understand why)

HERE ARE THE DETAILS:
WHEN: November 9, 2019
WHERE: Belinda & Kurt Hoemig Residence
5100 E. Big Bug Mesa Rd (Second house onthe left))
TIME: 4-SPM

WHAT'S IT ALL ABOUT:
Donate those unwanted, unloved old gifts you've received in […]
Lee Ann Beery from the Arizona Department of Forestry and Fire Management-Northern District announces two free classes.
One is in Sedona and the other is in Payson. This class will qualify those who complete the two-day course as certified Firewise Assessors.
Click to download:
Course Announcement Payson Oct 17&18 2019
Last Sundae Saturday of 2019
WHEN: Saturday-August 31st 1:00 TO 3:00 p.m.
WHERE: Walker Fire Station 4980 E. Walker Rd.
COST: Just bring your "sweet tooth".
PROUDLY SPONSORED FOR THE WALKER COMMUNITY BY THE WALKER COMMUNITY ACTION ALLIANCE
Donations will go toward the community chip and haul fund.