Buying or Selling Real Estate in Walker?
I will do a more effective job of selling your property or helping you find the right property to buy in Walker because I'm a full time resident of Walker.
My wife and I don't just visit on weekends. We don't have a second home somewhere else.
We live at the end of a dirt road. We're on a well and septic.
We've been snowed in for days. Our generator ran for 4 days when the power was out.
I understand Walker because I live here.
I understand real estate because that's my job.
I know that if I'm going to be successful, I'll have to work harder and do a better job for you, so you'll tell your friends.
Call me now at 928.925.4428 or email me at conrad@walkercommunity.com.
Have You Considered Selling Your Property In Walker?
Is now the time to sell?
As you know, real estate inventory has been tight, so the prices have moved higher.
Your property might be worth more than you expect.
If you've tried to sell in the past, but couldn't find a buyer, now may be the time to try again.
If you've tried to sell your property yourself, but you couldn't find a buyer, I may be able to sell it for you.
How Do You Sell Fast and Get The Best Price?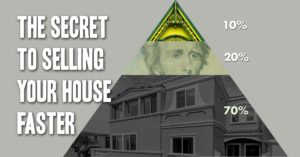 70% of selling your property is having it listed in the local MLS. 20% is pricing it right. The final 10% is all about marketing.
Before listing your property, we'll discuss how to price it by looking at comparable properties.
We'll consider ways to enhance what you have to make it more attractive to buyers; clean up, repairs, etc.
My background is Internet marketing and I have a drone video business on the side, so I'll create a video, using the drone in the air, and a tripod on the ground.
You will get a unique web site, just for your house, to give details about your property to potential buyers and make it easier for them to find it on the Internet.
NOW is the time to sell your property.
I'm the best one to help you do that.
Call me now at 928.925.4428 or email me at conrad@walkercommunity.com or use the form below.